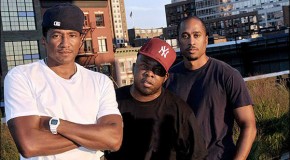 MOVIE REVIEW: 'Beats, Rhymes & Life: The Travels of A Tribe Called Quest'
---
07/07/2011
[dropcap]I[/dropcap]t is now about 1:00AM ET  and I've literally been up now for over 48 hours.  I'm surprised at how awake I feel at the moment, but I believe a good part of that might be due to  inspiration provoked by the private viewing I attended earlier this evening for 'Beats Rhymes & Life :The Travels of A Tribe Called  Quest' at Lowe's theater in Manhattan.  The film debuted at this year's Sundance Film Festival and this is actor Michael Rapaport's debut as a director.  Prior to seeing this documentary, I was sadly and honestly far too little aware of the story of A Tribe Called Quest and the contribution they made to the music industry.  A dear friend of mine invited me and it sounded like fun so I went and I'm glad I did.
I was immediately drawn into the film with the opening Q&A-style interviews with the main members of the band (Q-Tip, Phifhe Dawg, Jarobi White & Ali Shaheed Muhammad)  and other celebrities who were strongly influenced by them.  The documentary is a complete enjoyable ride for viewers with moments that take you from just the right amount of laughter, to discomfort and sadness.  The film is honest, not hiding or masking imperfections and flaws and is  a continuous reminder how pure hip-hop once was and how saturated and shallow it has become.  
Director Michael Rapaport did a great job of keeping the energy of film moving.  There were no boring lols which I find many documentaries to have.  Phife Dawg did a great job of keeping the comical aspect up, Q-Tip did a great job of keeping the creative energy fresh and the other two members did a great job making you wish Phife & Q-Tip would just work out their issues with one another for the sake of peace and sanity.  I was personally inspired by how the documentary went into how some of the groups greatest hits were created such as "Bonita Applebum" and "Can I Kick It".  Samples weren't being used because the group was lazy or lacked the musical skill to create from scratch, but the samples were used purely from inspiration.  The group wasn't rapping about money, easy women, drugs…but about love and just being who you are.  I am much younger than the group members, but even I can tell rap just isn't what it once was.   
All-in-all, this film serves as a reminder of the magic A Tribe Called Quest had in their prime and the progress and growth of the members as individuals, while at the same time serving as an introduction of the group's timeless & classic music and influence.  I would definitely recommend this film to my friends.  'Beats Rhymes & Life :The Travels of A Tribe Called  Quest' is a documentary well done! ♦
We give this movie 4 Curves.